Saturday, August 4th, 2012
Young drummers:
Festival food – the inevitable squid, plus how to make sure you don't lose your pretzel:
The shrine is carried along the streets: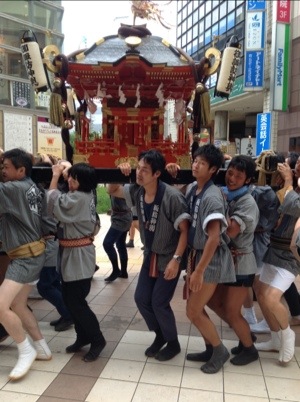 Apparently wearing pants is not part of the tradition – the young men wore shorts, but the older ones had something like the thong you may have seen on sumo wrestlers.
I wandered further from the hotel than I had been before, and found some temples where a demon was fighting with a dragon:
Many little girls and a fair number of adult women were wearing yukatas (a simplified lightweight kimmo for summer). The men mostly only wore them if they were taking part in something – the drummers and other musicians wore matching ones as a uniform for each group.

This evening there's a dance competition – each group takes their turn dancing on the stage, while the other groups and anyone else who wants to dances around them. Most of them dance to the same song, and the moves seem to be fairly standardized.